 
Bigakat 12'
bigger sister to the Oppikat 
mixed plywood construction - strip planking
 
Plans are usually shipped by the designer with USPS (Airmail US Postal Service). For more info see our shipping page
Bigakat 12
12ft Wood or GRP catamaran
Amateur-build catamaran
~ Modern concept
~ Easy launch and retrieval
~ Plywood & strip construction
~ Great family or school project
~ Wood or GRP construction
~ Bigger sister to Oppikat junior catamaran
The little 9' Oppikat has been built in nearly 20 countries around the world as one-off projects. Although intended for junior sailors to sail single- or double-handed, builders have reported that dad loves to sail the boat also, either by himself or with one of the juniors.
I have been asked many times by potential builders if we have a similar but bigger cat that they can build for themselves. Until now the answer was no. But now we do have what they were looking for, we have the Bigakat 12.

The Bigakat 12 is primarily intended for wood construction by amateurs, requiring moderate woodworking skills. Bulkheads, transoms, decks and the upper panels of the hull sides are all easily made from 4mm plywood. The lower sides and bottoms of the hulls are skinned with 6mm strip cedar and sheathed with a light layer of glass cloth in epoxy resin. Each hull is built over 4 permanent bulkheads and 5 temporary ones, which are set up upside-down on a board that can be mounted on a large table, workbench or sawhorses.Once skinned and glassed, the hull is removed from the board, the temporary bulkheads removed from inside the hull. Thosee temporary bulkheads are then set up on the board again with new permanent bulkheads to build the second hull. After waterproofing the insides with two coats of epoxy, the decks are fitted.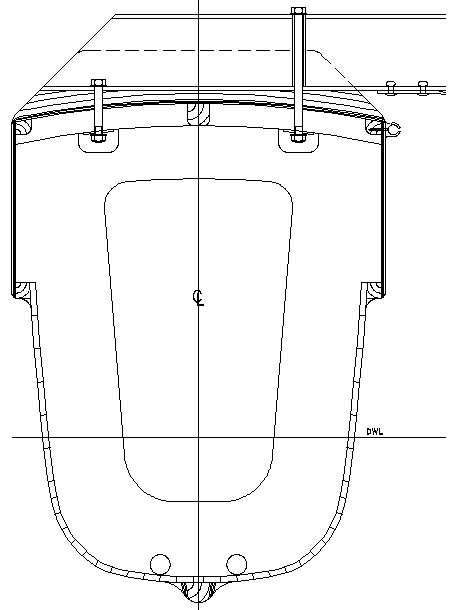 The overall image is modern, in the style of racing cats. The keels, constructed onto the bottoms of the hulls, give windward ability and a pivot point for tacking, without the complication of daggerboards. Their draft of 10.5" allows easy beaching and sailing in shallow water. The rudders have foil-shaped fixed blades for simplicity. They do not project below the keels so they have protection in shallow water to reduce the number of concerns for novice sailors.

The rig uses a simple round tube aluminium mast with track screwed or rivetted on. The rigging is simple and comprises only a forestay and single shrouds, attached to the chainplates with lashings rather than bottle screws. The jib is on soft hanks or piston hanks over the forestay. The mainsail has a large roach and is fully battened. The large foot batten replaces a boom and is controlled by the mainsheet which runs on a wire bridle on the aft beam. Buoyancy material in the double skin top panel of the mainsail will assist with righting in the event of a capsize. Bigakat 12 can be sailed with mainsail alone or main and jib.

The standard plan package includes full-size paper patterns of all bulkheads and transom, overlaid on top of each other. We also offer option full size patterns of bulkheads, transom, hull side and deck, with the bulkheads alongside each other for easier use.

List of Drawings

 
 
CHARACTERISTICS
LOA 3.72m (12'2")
LWL 3.72m (12'2")
Beam overall 2.10m (6'10")
Draft 0,27m (10.5")
Weight Approx 95kg (200lb)
Mast length 6.10m (20'0") 
Mainsail 7.83sq.m (84sq.ft)
Jib 2.5sq.m (27sq.ft)
.      Italy only shipping    .  ______________________Due to the high cost of ADR(Accord Dangereuses Route)
Marine plywood with excellent resistance and durability performance in conditions of extreme humidity and salinity.  Thanks to their unique water resistance, Okoumè marine plywood panels are the ideal choice for carrying out structural projects that require durability performance in a marine environment even in severe conditions. measures 122x250cm...
8 other products in the same category:
    Multi-purpose, she can be rowed, motored or sailed and is light enough for one person to lift on and off the family car or yacht.  LOA:      2.50m  (8'2") Beam:  1.28m (4'2") Sail Area: 4.23m² (45.5) Hull Weight:  22kg (48lb) Oar length:  2.0m (6' 6")
marine plywood - stitch & glue.   One of the most successful designs, with many hulls actually on building. Ideal for nautical camping, sailing schools and coast sailing. Light, fast, safe and balanced, it has great load capacities.  Features Length: 4.70m Width: 1.83 Draft: 0.13 / 0.8m Sails area 9.8 m2 Nude Hull weight: 60kg Mast height: 6.00 m....
Plywood Lapstrake Traditional Open Daysailer   ~ Same hull, rig & characteristics ~ Large & comfortable open cockpit ~ Day-sailing or camp-cruising ~ Dry & secure cuddy ~ Lapstrake plywood for amateur builders ~ 16 Flotation compartments ~ Pre-cut plywood kits  
"I was commissioned to design a larger sister of Dixi Dinghy for a series feature in the same newspaper. The resulting design is  the ARGIE 10, named after the little boys who sell the newspaper." Dudley Dix. LOA:      3.10m  (10'2")Beam:  1.35m (4'5")Sail Area: 5.25m² (56.5)Hull Weight:  29kg (64lb)Oar length:  2.0m (6' 6")    Plans are usually...
sport dinghy in radius chine - CAD with double trapeze as very high performance skiff or ballasted as sport dinghy with great stability. The economy of marine plywood for a wood / epoxy performance boat. Radius chine hull, cockpit and edge deck. Developed on the Didi Mini Mk3 minitransat concept. With double trapeze as very high performance skiff or...
Plywood 3:1 lapstrake dinghy, balanced lug rig. Plan delivery by hard copy or email.       Plans are usually shipped by the designer with USPS (Airmail US Postal Service) or by e-mail if pdf files in 24/72h. For more info see our shipping page
A boat for the little people ~ Modern concept ~ Easy launch and retrieval~ Car-toppable ~ Trainer for the big cat~ Great "my own boat" for the kids~ Now also detailed for wood construction     Plans are usually shipped by the designer with USPS (Airmail US Postal Service). For more info see our shipping page