 
Didi Sport 15
sport dinghy in radius chine - CAD
with double trapeze as very high performance skiff or ballasted as sport dinghy with great stability.
The economy of marine plywood for a wood / epoxy performance boat. Radius chine hull, cockpit and edge deck.
Developed on the Didi Mini Mk3 minitransat concept. With double trapeze as very high performance skiff or ballasted as sport dinghywith great stability.
High performance for a boat suitable for the skills of an amateur builder or for a quick and cheap professional construction.
Didi Sport 15
Didi Sport 15 (DS15)
 
Radius Chine Plywood Mini Sportboat
 
Build yourself a mini sportboat
~ Economy of plywood
~ Modern radius chine hull with topside chine
~ Stitch & glue cockpit & topside chine
~ Developed from Didi Mini Mk3 concept
~ Unballasted for trapeze dinghy performance
~ Or ballasted for sportboat stability
~ Round bilge from sheet material
~ Amateur or pro builders
~ Very comprehensively detailed drawings
~ High performance in a boat that you can build at hom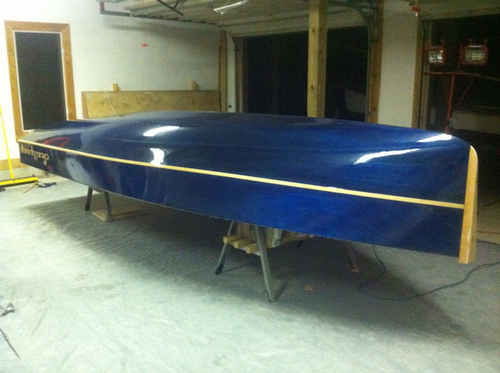 The Didi Sport 15 design started a few years ago and has been moving along very slowly, at the pace of the prototype that is being built by a very meticulous builder. He is making a beautiful job of his new boat, hence the slow rate of building.

This design started as a 16ft bigger sister to the Paper Jet. It was to be of similar concept but a twin trapeze skiff for two adults. When he told me that he also planned to use it as a picnic boat for four adults with cooler boxes, I told him that the Paper Jet concept really had no chance to serve all of his requirements. The concept immediately changed to what you see in the Didi Sport 15, as a ballasted sportboat.

The Didi Sport 15 hull is a little sister to the Didi Mini Mk3 and a direct development from it. It has the waterline beam and stability to serve the picnic purpose that the builder wants, able to carry load in a relatively docile manner if reefed down to suit the breeze of the time. In this mode she is really a sportboat with a modern and powerful rig that can be reduced to be more docile if needed. With her full rig of squaretop mainsail, self-tacking jib and asymetrical spinnaker on a retractable bowsprit and launched from a chute, she will be a spirited racer for club Olympic triangle and point-to-point racing. Or just blast back-and-forth across the bay or lake until you wear yourself out from fun and excitement.

She has a covered foredeck above a sealed rapid-draining wet deck, which creates a safe and dry storage area and shelter for small crew. These characteristics make her a good option for raid-type racing events that require carrying one's own stores, camping equipment etc over long distances between camping stops. Hanging a tarp or the mainsail over the boom turns her into a camp cruiser, with a cockpit long and wide enough for a couple of airbeds for a comfortable night anchored or nudged up onto the beach in a sheltered private cove.

But this boat is schitzophrenic, it has a very different alternative personality for those who want to have some high-performance fun. Remove the ballast bulb from the daggerboard and she morphs to what I originally intended with this design. She becomes a high performance skiff with one or two trapezes for adults.

Construction is over permanent bulkheads and a ladder-frame backbone, with stringers. Most of the hull is 6mm sheet plywood, the exception being the radius area that is done with two layers of 3mm. The topside chine uses a stitch-&-glue joint and increases the power from the stern when power-reaching. The deck and cockpit are all 6mm sheet plywood using stitch-&-glue detailing.
Hull shape is radius chine with a partial hard chine in the topsides. The radius chine runs from the transom through to the forefoot and produces a shape close to round bilge, with a shallow v-bottom. The hard chine runs from the transom through to the mast, where it fairs out into the topsides. The resulting shape is fine in the bow, with a broad, clean and powerful stern. Low drag and fine bow for wave penetration and upwind sailing, powerful aft for planing downwind in the strong stuff.

The images below have the sections and design waterline shapes included, to show the hull shape more clearly.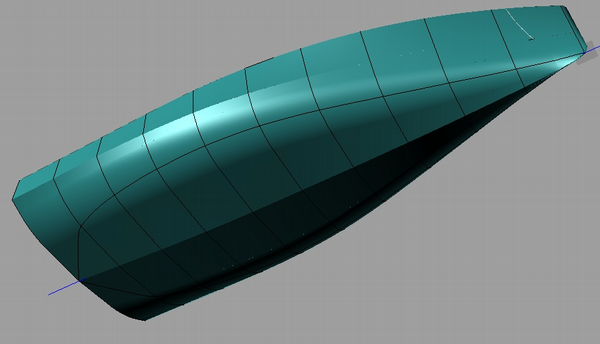 Detailing is based on the series of radius chine plywood designs that started with my DIDI 38 "Black Cat", and was followed by a string of designs through to the Didi Mini Mk3 and Didi 950.

The standard plans package includes all detailing and full-size paper patterns of all bulkheads and the backbone. We also offer optional full size Mylar patterns for all plywood components to help with drawing the skin panels and speed up construction.
CHARACTERISTICS
| | | | |
| --- | --- | --- | --- |
| LOA 4.56m (15'0") | LWL 4.46m (14'8") | Beam 1.8m (5'11") | Draft 0.2/1.25m (0'8"/4'1") |
| Weight unballasted 100kg (220lb) | Weight ballasted 150kg (330lb) | Ballast 50kg (110lb) approx | Waterplane area 3.87sq.m (41.7sq.ft) |
| Immersion rate 40kg/cm (88lb/inch) | Wetted surface 5.1sq.m (55sq.ft) | Sail area (main + jib) 16sq.m (172sq.ft) | Sail Area/Wetted Surface 3.13 |
 BS1088 Okoumè shapes pre-cutted on CNC of: bulkheads, hull, deck, cockpit.  solid wood not included, easily available in your area.  EX-WORKS PRICE  contact us for further information: info@nautikit.com Save 10% of discount by paying the kit in a single solution, or dilute the payment by dividing into 3 steps: 50% on order - 30% on working start - 20% on...
Price
€1,870.00
Regular price
€2,200.00
 In Stock
7 other products in the same category:
bigger sister to the Oppikat mixed plywood construction - strip planking
   Multi-purpose, she can be rowed, motored or sailed and is light enough for one person to lift on and off the family car or yacht.  LOA:      2.50m  (8'2") Beam:  1.28m (4'2") Sail Area: 4.23m² (45.5) Hull Weight:  22kg (48lb) Oar length:  2.0m (6' 6") pdf file protected: only for screen or printing for the DWG file, please contact us: info@nautikit.com...
"I was commissioned to design a larger sister of Dixi Dinghy for a series feature in the same newspaper. The resulting design is the ARGIE 10, named after the little boys who sell the newspaper." Dudley Dix. LOA:      3.10m  (10'2")Beam:  1.35m (4'5")Sail Area: 5.25m² (56.5)Hull Weight:  29kg (64lb)Oar length:  2.0m (6' 6")   pdf file protected: only for...
marine plywood - stitch & glue.  One of the most successful designs, with many hulls actually on building. Ideal for nautical camping, sailing schools and coast sailing. Light, fast, safe and balanced, it has great load capacities.  Features Length: 4.70m Width: 1.83 Draft: 0.13 / 0.8m Sails area 9.8 m2 Nude Hull weight: 60kg Mast height: 6.00 m. Max...
A boat for the little people ~ Modern concept ~ Easy launch and retrieval~ Car-toppable ~ Trainer for the big cat~ Great "my own boat" for the kids~ Now also detailed for wood construction
Plywood 3:1 lapstrake dinghy, balanced lug rig. Plan delivery by hard copy or email.     pdf plans can only be printed and cannot be converted to dwg/dxf; of wich the additional cost is equal to the plans value. Contact us before order  the dwg/dxf: info@nautikit.com